Online Furs - United States Fur by Kamoshen
Boa, Fling, Stole, Scarf - Rare Find! Genuine Sable Fur, "PL" Collection Piece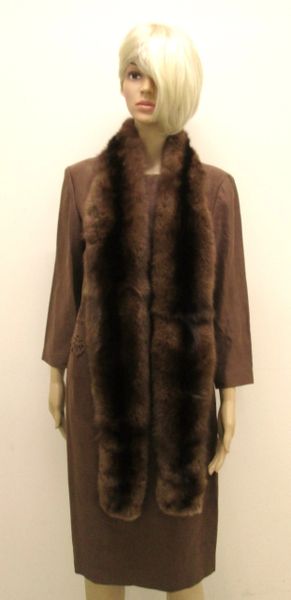 Boa, Fling, Stole, Scarf - Rare Find! Genuine Sable Fur, "PL" Collection Piece
Description
Yes! Genuine Sable Fur Boa, Fling, Stole or Scarf
Rare find. A gorgeous previously loved genuine sable fur scarf, stole, or worn as a boa, too. Has romantic shades of natural browns. Made from finest quality sable fur pelts with rich black grosgrain lining. This magnificent fur item is 67" in length & 4" in width which tapers down to 3" at the bottom tips for added style and comfort. One size fits most. Very soft, supple and lightweight. Can be worn by both men and women alike, completely versatile.
*Sable is one of the most cherished and sought after furs today. Historically, sable fur was typically worn by royalty.
"PL" Previously Loved
We only offer previously loved item that have been inspected and professionally cleaned and glazed. They are all smoke free and odor free. All pieces are either offered with a new lining or with a perfect lining. In some cases we will cover a monogram with our label. In Summary, we consider our previously owned pieces to be exactly equal to brand new in condition.
For Custom Designs & Questions call 1 888 FINE FURS
Online Furs by